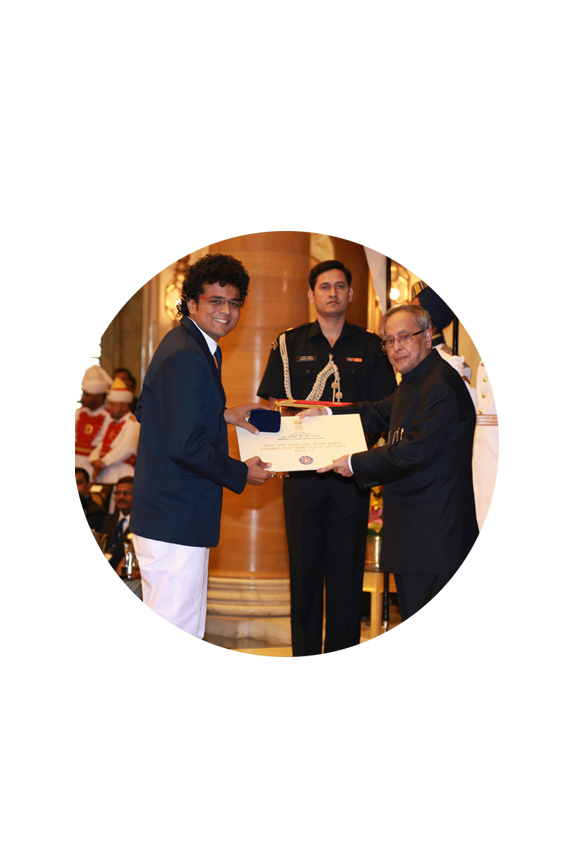 Founder & President
Madhish Parikh
Madhish Parikh, brought up in Ahmedabad, India is an active Youth Leader and is associated with many social change making organizations. He is an alumnus of L D College of Engineering moreover a Graduate in Computer Engineering.While being an Engineer, Madhish's area of interest has always been more inclined towards Social Services. His implausible Social Journey started with National Service Scheme (NSS) as a volunteer.From the very beginning, Madhish has aimed to bring an admirable change in the society and has passionately worked in that direction. "Arise, awake and Stop not till your goal is reached" has always been a Source Code of motivation for him. He has been working extensively in almost all possible social sectors like health, environment conservation, blood donations, digital literacy, education, youth empowerment, women empowerment, national integration, international integration, awareness Programme and much more.
In recognition to his social works he has beenhonoured with many awards by the government as well as National Organizations. He was awarded with "Best NSS Volunteer" Award by Gujarat Technological University (GTU). Government of Gujarat awarded him with "Gujarat State NSS Award". For his outstanding community welfare services he was honoured with "Indira Gandhi Award" by Honourable President of India, Shri Pranab Mukherjee on November 19, 2014 at Rashtrapati Bhawan, New Delhi. Madhish's recognition has also been accepted with "Volunteer Hero Award" by iVolunteer.Under Government of India's obliging scheme, Madhish has been selected as an Indian Delegate to Bahrain in December 2015 where he worked upon Indo-Bahraini relations and represented India at an International Level. Fulfilling this big roll of gratitude, Madhish added up with a "National Youth Award" by Government of India which also makes for the highest tier award of the nation in the enthralling youth category. He has been an Indian Delegate to "Women Higher Education for Disarmament and Peace, Vienna Forum" at UN Head Quarters in Vienna, Austria.
Madhish Parikhhas served as a representative to India at 'Shape Asia Pacific 2017' at Cebu Island, Philippines in 2017. Hon'ble Prime Minister of India, Shri Narendra Modi retweeted about his Statue Cleaning initiative of National Icons. Madhish'snomination on "Women Transforming India" was awarded by Government of India and appreciated by mygov.in, NITI Aayog and United Nations in India.In the contribution fragment, his current portfolios are NSS Advisory Board Member at Gujarat Technological University, Global Shaper at World Economic Forum, Member at World Youth Alliance, Truecaller Brand Ambassador, Microsoft Student Partner, Co Founder at Invincible NGO, President at Elixir Foundation and Global Shaper at Ahmedabad Global Shapers, World Economic Forum. These statistics goes on to show what an enormous proficient youth leader Mr. Madhish Parikh is in making.